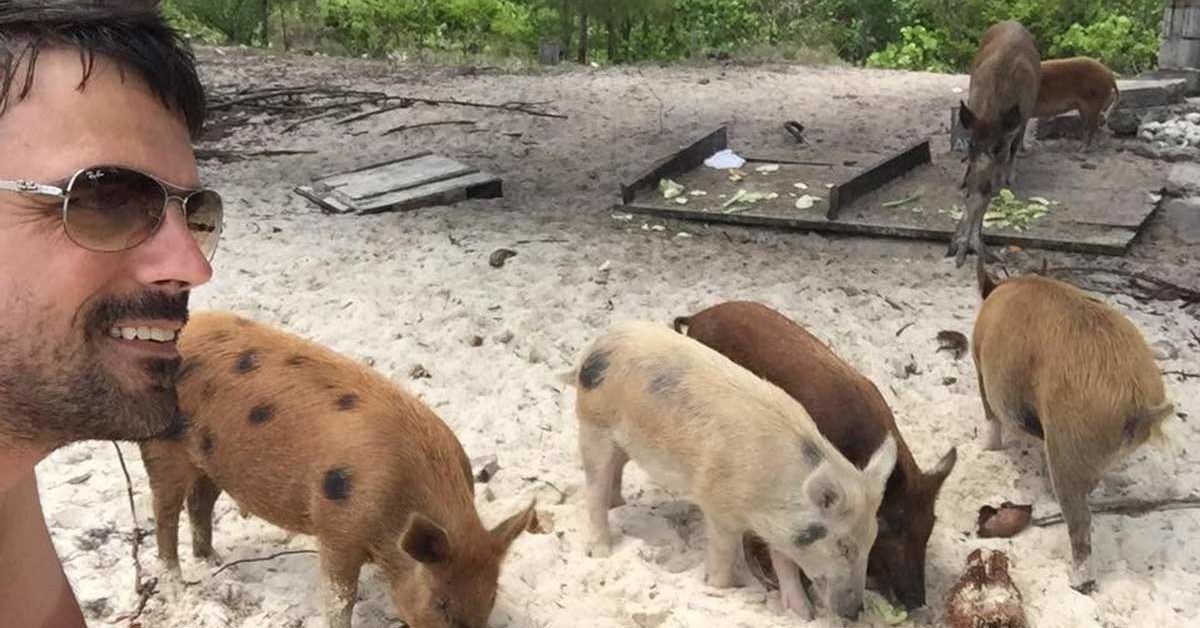 Abaco – Bahamas – swimming with the pigs
While traveling around the world, I always am looking for a special adventure. I like to go to exotic locations, but I don't necessarily have to experience a big adrenaline kick. I also like to enjoy nature, so I don't go for the overrun tourist beaches, but rather the countryside and culture, which I can then experience in an undiluted, authentic manner.
It is only when you are way off the beaten track (in the more local, less touristy areas) that you can experience the customs of unfamiliar cultures and witness nature at its finest.
After several rather risky adventures, I decided that I wanted to have a more comfortable journey on my next vacation. Additionally, I wanted to have some nice weather and perfect conditions for relaxation and swimming. After a thorough search online, I decided to go to Abaco.
A Couple of Facts about Abaco
Abaco is an about 195 kilometers (121 miles) long cluster of islands north of the Bahamas. These numerous tiny islands are fascinating to see, with the biggest two being Little Abaco and Great Abaco. They are characterized by their long sandy beaches, turquoise blue sea, and tropical palm forests. All along the beaches, you will view images straight out of a coffee table book. I did think that it was all a bit too good to be true when I first took a walk along the beach, right next to the ocean waves.
During my stay, I visited several islands and quickly realized that every single one of those islands is completely unique. Also notable is that it is pretty easy to travel from island to island on Abaco, since there are a lot of water taxis.
This island group isn't just beloved and known by tourists who simply want to relax at the beach. Anyone doing aquatic sports will get their money's worth as well, as they can choose from a range of activities, such as:
Diving
Snorkeling
Boating tours
Sailing
Surfing
Kite surfing
Water skiing

Other sporting activities are also available. For example, Treasure Cay offers a neatly kept golf course with a breathtaking backdrop. This was the place I was most interested in going to, as there is where the Treasure Sands Club is located.
Treasure Sands Club: An Extraordinary Culinary Experience
It is well-known amongst those closest to me that I like to participate in sports. Tiring myself out is my chosen method of escape from everyday life, and since many of my adventures require a good deal of stamina, fitness is very important to me. I can only maintain this though if I eat a balanced diet, so I was determined to stick to one during my stay on Abaco. During one of my morning runs along the wonderful sandy beach beneath the palm trees, I met another vacationer who suggested the Treasure Sands Club to me. I was intrigued, so I headed to Treasure Cay.
At the club, I was immediately taken in by the relaxed atmosphere and the appealing design of the premises. The gardens were not the only things that were extraordinary though, the kitchen was lovely as well. A friendly employee told me that the ingredients for their delicacies come from the Bahama Woodstar Farm.
I ate lunch at the Treasure Sands Club and could select from a range of wonderful salads and sandwiches. It was immediately apparent that the vegetables were fresh when I took a bite of the salad I chose. Other options included a selection of steaks and fish. However, due to the heat, I stuck to a tuna ceviche with fresh fish, capers, avocado, and a lot of vegetables. For dessert, I ate coconut cake with grilled pineapple filling.
Another Adventure: Swimming with Pigs
After eating at the Treasure Sands Club, I undertook my next adventure. I had heard many times about the swimming pigs in the Bahamas, so I was excited to see and experience it for myself. The most well-known colony of swimming pigs can be found at the Big Major Cay Island of Abaco. If you are familiar with the latest seasons of Germany's Next Top Model, you will probably know these animals. In 2011, they were seen during a stay in Exuma.
Ultimately, I settled my sights on a smaller pig colony in No Name Cay, a smaller island east of Great Abaco. When I headed towards the tiny village of Piggyville with my guide, I could clearly see that the place had earned its name.
We set out from Green Turtle Island towards the pig colony. The adorable animals seemed to wait for us at the beach, and the local guide told me that these pigs were brought over from a farmer who had imported them, then abandoned his breeding project and left the pigs to their own devices.
Today, these trusting pigs will follow vacationers all around the island, even into the water. I have swum with dolphins and sharks before, but I have to say that so far, swimming amongst
pigs has made me feel the safest. I can warmly recommend this experience to every animal and nature lover.
https://martin-schranz.com/wp-content/uploads/2018/02/martin-schranz-bahamas-bild.jpg
630
1200
Martin Schranz
https://martin-schranz.com/wp-content/uploads/2018/02/martin-schranz-logo-bild.png
Martin Schranz
2021-11-01 12:11:22
2021-11-01 12:11:25
Abaco – Bahamas – swimming with the pigs