Adventure Kilimanjaro – Pole Pole
As a child of the Alps, I have always had a strong connection to mountains. However, after fracturing my heel bone during a climb a few years prior, I can no longer climb well, due to the resulting deformation.
Nevertheless, one of my lifelong goals has been to climb some of the "Seven Summits" (the highest peaks of each of the seven continents). In Europe the highest peak is Elbrus (5,642 meters elevation); Africa's highest peak is Kilimanjaro (5,895 meters elevation) in Tanzania and South America's highest peak is Aconcagua (6,962 meters elevation) in Argentina. I selected these as my targets since I believed that I could summit them with my ability and training.
Due to the coronavirus, I had plenty of time at home to spend making plans. It was then, by chance, that I saw an ad from Aktivferien AG. They were holding an informational evening close by, centered around climbing Kilimanjaro.
Spontaneously, I decided to attend and upon hearing the itinerary, was immediately hooked. Other than the climb, they were offering a safari that lasted several days. I was surprised that it was possible to go to Tanzania, despite the coronavirus having locked everything down. This also meant that there were barely any tourists in Tanzania, consequently leaving the mountain to just us.
In addition, we would be contributing to the local economy there, as they depended on tourists. After these realizations, I booked my trip. Exclusivity is just my thing – and this was not likely to happen again!
I only had two weeks to prepare, organize missing gear, and train. Then, it was time to begin my adventure.
Climbing Kilimanjaro
My group was small – we had just seven participants and one Swiss mountain guide, despite a long journey. We had to change planes over three times, with a seven-hour layover each time. This made the usually 12 hours long trip almost three times as long.
We chose the Mandara route, one of many leading up to the summit. Everything was well- organized with a lot of porters and cooks to carry our supplies up to the camps. We only had to carry our own daypack.
On average, each mountaineer would have two or three natives who support them throughout the endeavor. This is all to ensure that as many people as possible will have work (and consequently an income), which is highly important to the country as a whole. It's certainly
not necessary to have so many porters. Also, having three cooks in a single group is a deliberate choice, since one cook could definitely take care of five groups combined. For every group on the mountain (and usually there are many), someone stands by to deliver three fresh papayas and soup vegetables to the huts.
The first thing I learned while hiking Kilimanjaro is "Pole Pole", which means "slowly slowly". If we wanted to climb a high mountain, we had to be slow from the outset, and I mean very slow. One step after the other, one deep breath after the next.
The special thing about climbing Kilimanjaro is crossing through all the zones with different vegetation. At first, we trekked through the rain forest with countless rare primates and other animals. Within the boundaries of this rain forest was the first hut – the Mandara hut at 2,700 meters elevation.
To be honest, one of the most extraordinary things on the trip was being served such delicious food at this hut. I would not have thought this to be possible at such a high elevation.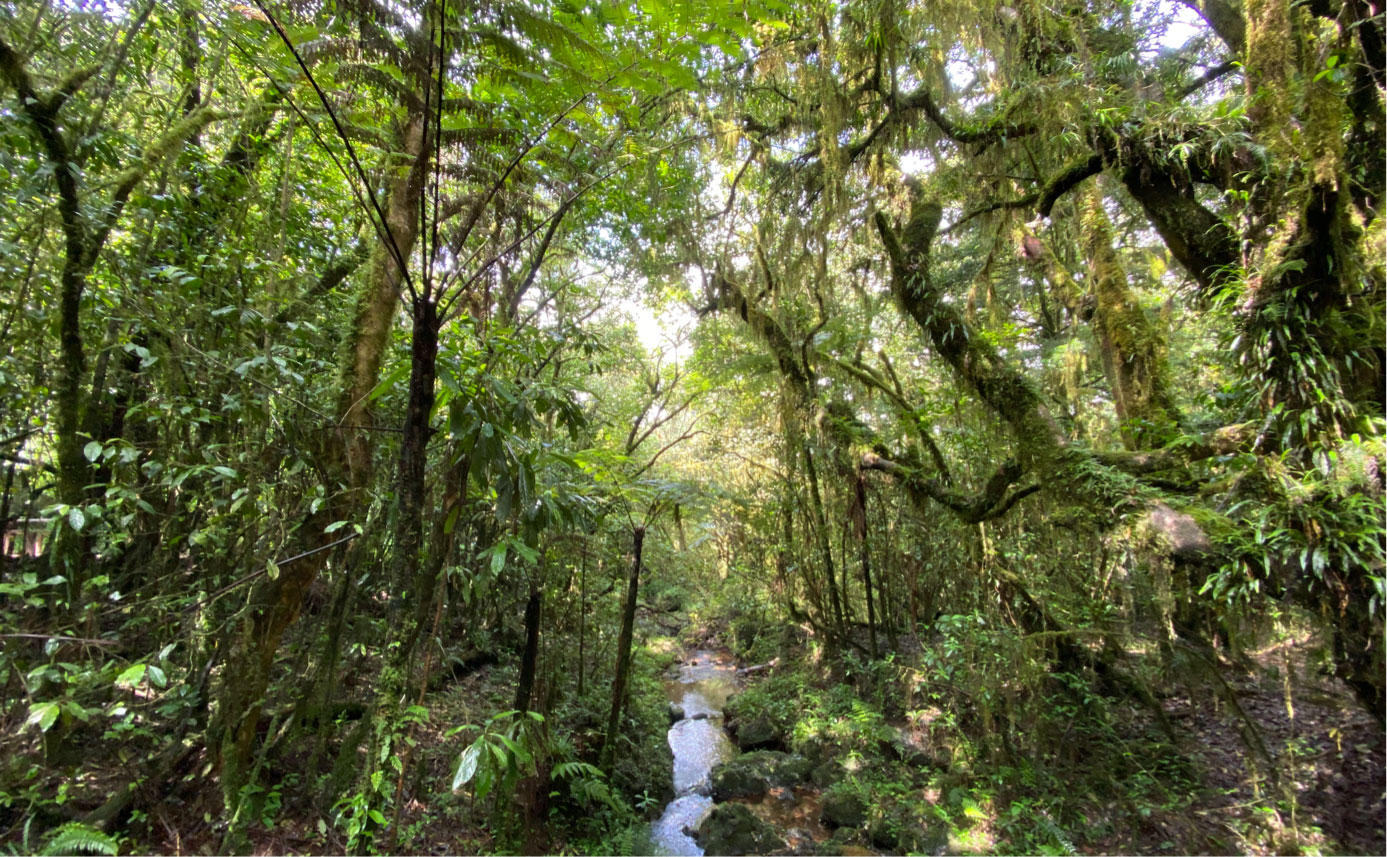 The next day, our climb towards Horombu hut was 11 kilometers. We crossed new zones of vegetation before reaching the next checkpoint at 3,700 of meters elevation. Up there, the air was thin, and any hasty movement immediately caused dizziness. It was actually possible to suffer nausea and acute altitude sickness.
From this time on, the body reacts to any smallest change and definitely is a lot more sensitive. Therefore, the tour takes a day to acclimate here, including a short hike to get better accustomed to the weather and elevation.
At Horombu hut, we really noticed how exclusive our trip was; on a regular occasion, there would have been up to 500 climbers around this time of year, yet we were the only group. Hardly anyone would have an experience quite like ours. Amidst the tragedy of the pandemic, we were able to experience a small spark of positivity on the mountain.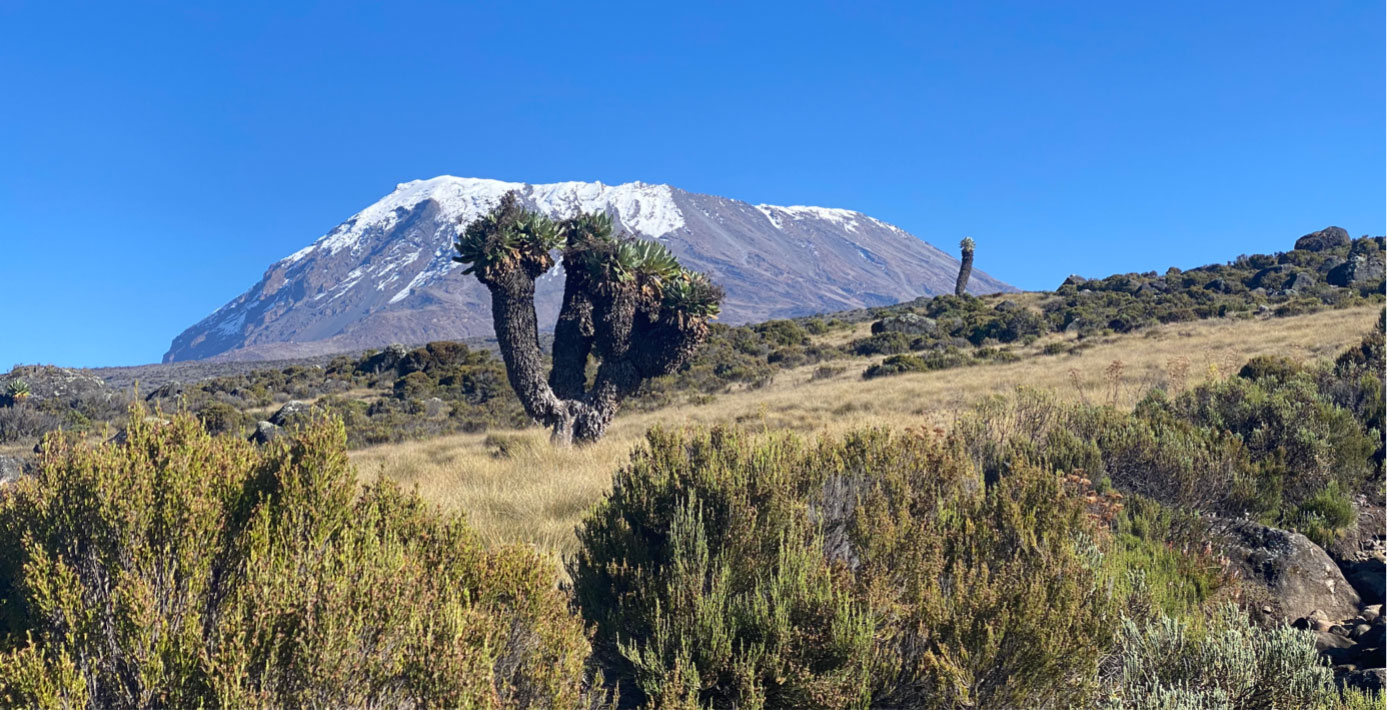 On our fourth day, we continued to the Kibo hut at 4,700 meters of elevation. The way up there was marked by an absence of vegetation, which made it look like walking on Mars. The sun was glaring down, the air was thin, and we couldn't move quickly at all. Anything we did
at this elevation, we had to think about carefully and did deliberately. It was like a marathon, every movement felt exhausting. Having the correct breathing technique was definitely helpful.
After a late meal, everyone laid down for a short nap before we got back up at midnight. We had tea and soup (provided we could still eat at this altitude) and set off at once, in the morning. The biting cold and light breeze made progress difficult. This last stage of our expedition was completely different from our hikes in the days prior.
Every hour, we had a short break, more tea, and a bit of chocolate or glucose. After our second break, one of the participants had to turn back, since she fell ill with altitude sickness. Shortly after, a biting, damp wind picked up, making temperatures plummet further. We were covered in ice in no time.
With every step, it was best to take deep breaths in and out. With time, our surroundings and any sense of time became obsolete. We were focused solely on our next step, our next breath of air. The temperature was still decreasing.
At one point, I turned towards my brother and asked him if he felt well despite the altitude, strong wind, and cold. He simply said, "We're right in the middle of our adventure now." That was exactly how I felt as well. His words were all the more significant to me as he is an experienced mountaineer. We hiked on, for countless hours, which demanded a certain capacity to suffer on our end. Both my head and my body were strained due to a lack of oxygen and exhaustion. Every cell in my body demanded that I turn back, that it was enough, that it was time to quit.
From an outside's perspective, it sounds simple enough, but at that moment, it felt like someone was cutting off my air supply. It was almost suffocating, so pressing on turned into a torturous strain.
The first outstanding waypoint was Gillman's Point, soon followed by Stella Point, but I didn't understand what the significance of those two waypoints was. I was completely exhausted and thought about giving up. The wind up there was extremely cold, and my fingers were frozen so stiff that I couldn't open my tea flask anymore. My nose hurt terribly, and I was worried I would obtain frostbite. I was constantly asking myself why people subject themselves to this voluntarily.
We reached Uhuruk Peak at seven in the morning, all visibly exhausted and bedraggled after the long ascent. The first rays of sunshine breaking over the horizon made it a lot more pleasant to be up there. At that instant, I realized that if someone claims that Kilimanjaro is an easy mountain to climb, they either have no idea about high altitude mountaineering or have never been that high up at that peak.
Technically, it could be an easy mountain to climb. However, that doesn't mean everyone setting out at the base will reach the peak. On average, only about 70% of climbers will actually reach the summit.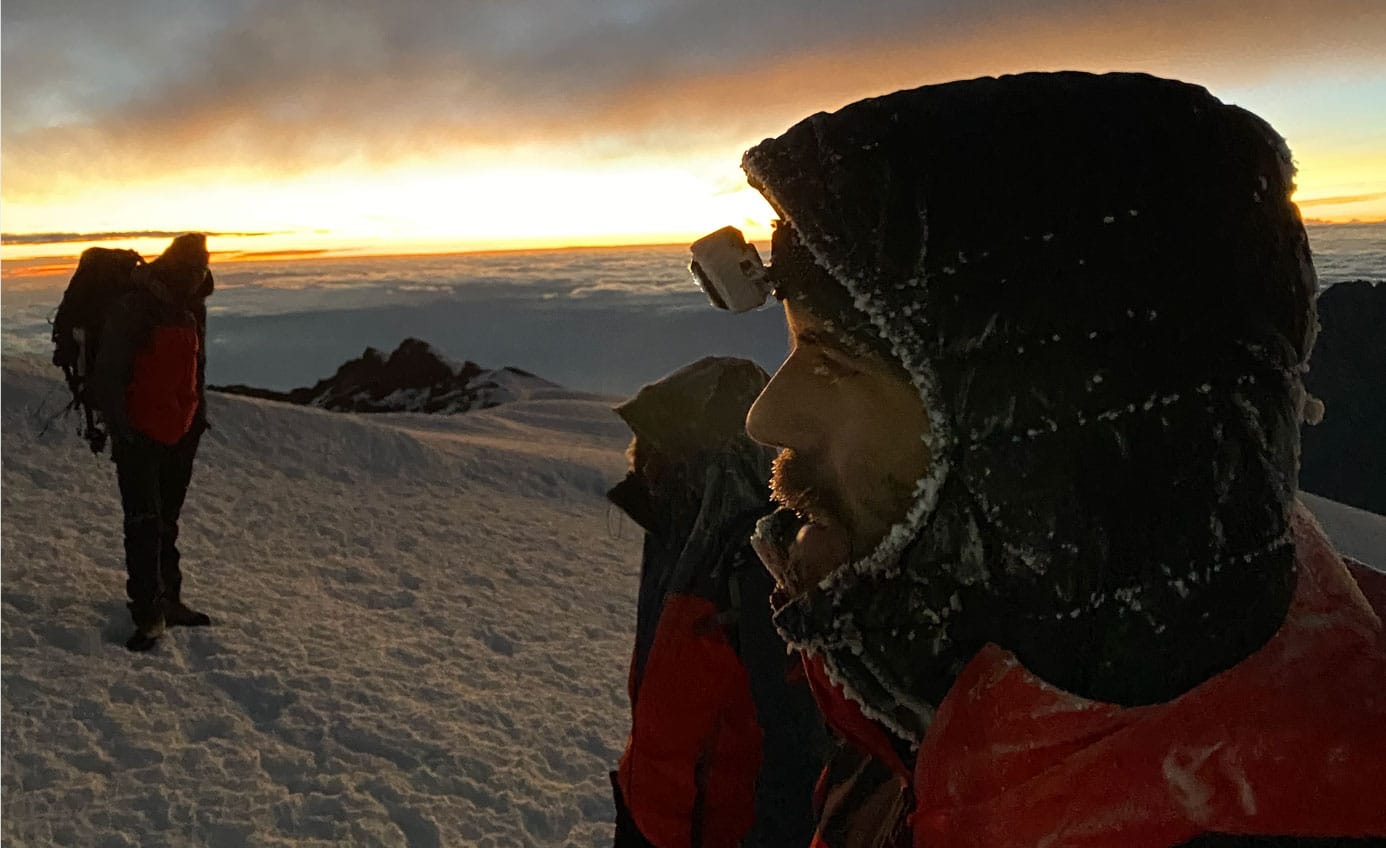 The descent was comparatively easy; only two hours later, we were back at Kibo hut. On that same day, we descended even further down to Horombu hut for the night. While we all had trouble sleeping at this altitude when we were there the first time, we slept soundly on our last night.
The following day, we descended fully and celebrated with a "Kilimanjaro beer". No one really accounted for the fact that alcohol hits a lot faster at that altitude, but we had fun, which was the point.
We took off on safari in the days that followed. Initially, we went to the Ngorugoru crater, where we stayed the night in the wilderness. Two days later, we spent time in Tarangire National Park. Both parks offer the opportunity to experience the big game and many other animals up close and personal. It was a unique and intimate experience. The giant parking lots at the parks, which are usually filled with up to 200 automobiles, were completely empty. We actually only saw one bus with Tanzanian school children during our whole stay.
The experience definitely fired up my appetite for more, so I made new plans right away. I can enthusiastically recommend this journey to everyone. Even if you don't want to climb a mountain, going on a safari in Tanzania is a wonderful experience. If you can befriend some people there, you will find that they are extremely friendly and warm. It was a special experience, perfectly organized to a T by Aktivferien AG. A big thank you to the team for this experience!
https://martin-schranz.com/wp-content/uploads/2021/02/kilimanjaro1.jpg
1001
1386
martinschranz
https://martin-schranz.com/wp-content/uploads/2018/02/martin-schranz-logo-bild.png
martinschranz
2021-09-02 10:51:29
2021-09-02 10:54:42
Adventure Kilimanjaro – Pole Pole