Indoor-climbing and Rock-climbing
If you are like me and are always looking for the next adrenaline kick, you might have tried out some extreme sports to fulfill that desired. Several years ago, I tried paragliding and climbing. However, I quickly found out that courage is not always rewarded. On the contrary, I suffered severe injuries. Despite that, I still do not want to give up extreme sports since they are an important part of my life. After two severe accidents though, it is difficult to push myself to the limits anymore.
My Fascination and Experience with Extreme Sports
What exactly is my fascination with extreme sports? And why do some people aspire to go higher, faster, and further, while others are completely content with their current baseline and don't like taking any risks at all? In trying to answer these questions for myself, I looked at my past.
Personally, I associate extreme sports with traits like courage, curiosity, and a spirit for adventure. I could never sit still for a long time. At the age of 16, I began paragliding and was considered the youngest paragliding pilot in Austria and even obtained a special pilot license. I would often head out during midday breaks (while my colleagues would take a nap) to make my way up the mountain on a cable car and go on a flight.
Even as an adult, I always needed balance in my everyday life. I love to try out new things and test my limits – no challenge seems too large for me. Like so many others, extreme sports help me break out of my routine.
When I first started paragliding, I did not want to admit to myself that it was dangerous. Whenever I was told that something was impossible, I had to experience it for myself. I was definitely lucky when it came to paragliding, as nothing serious ever happened (so far). Thinking back on what I tried though, my heart still beats rapidly to this day.
After about 200 flights, I had a severe accident where I crashed at take-off and collided with a rock. I broke one of my clavicles (amongst other injuries) and had to get six screws and a titanium plate to hold everything together for a whole year. As you can imagine, my first helicopter flight to the hospital was everything but exciting.
Ten years after the accident, my brother suggested I try my hand at climbing. Of course, I started out in the climbing hall. My brother was a good teacher, and I was an eager student, so I was soon able to tackle exciting routes on cliff faces in the Alps.
My second accident occurred on one of the easier practice rocks. I did not notice a slippery spot, lost my footing, and fell five meters before the first safety hook kicked in. I landed hard
on my feet and cracked my heel bone. It was later fixed in place with three big screws, which again had to be left in for an entire year.
Why I Still Do Extreme Sports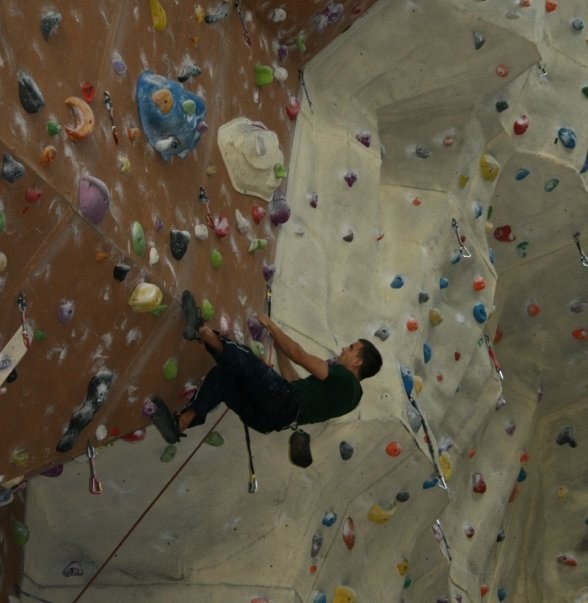 Climbing and paragliding especially caught my attention, not without reason. Climbing demands perfect bodily control. Whether you practice in a climbing gym or are on the steepest cliff faces in the Alps, every step and every placement of your hands needs to be correct. There is no time to ponder if you made the wrong decision shopping yesterday or when you have to sign the next contract. During a climb, it's all about being present.
I always managed to completely focus on climbing and forget everything else. Paragliding was the same. When I was gliding over the land completely weightless, I forgot about everything around me for countless hours while endless mountain ranges and valleys went by beneath me.
Unfortunately, after those two accidents, I lost the nerve to really push myself at either climbing or paragliding. I lost that extra little bit of courage, the iron bravery to improve myself and push myself to the limit. I tried again after my accidents but just couldn't shake off this newfound insecurity. My original motto was "go big or go home", but since going big was no longer possible for me, I have sadly had to make the decision to go home. Today, I look back on those moments filled with joy and a sense of pride.
I am happy that I participated in both of those sports, went so far in them, and had the time of my life
https://martin-schranz.com/wp-content/uploads/2018/02/martin-schranz-extremsport-bild-fb.jpg
630
1200
Martin Schranz
https://martin-schranz.com/wp-content/uploads/2018/02/martin-schranz-logo-bild.png
Martin Schranz
2021-11-01 12:24:18
2021-11-01 12:24:30
Indoor-climbing and Rock-climbing