Island Peak – Expedition in the Himalayas (6,198 meters / 20,340 feet)
Namasté – the friendly Nepalese greeting that means "I bow to you" – is a phrase I found myself using often during my harrowing expedition to Island Peak in the Himalayas.
Island Peak, or Imja Tse, is nestled in Nepal's Sagarmatha National Park high up in the Himalayas. Island Peak has earned its name as it appears to be an island in the middle of the Himalayan Range's enormous glaciers.
It is considered to be one of the easier 6,000 meters climbs in Nepal, though "easy" is a misleading term to apply to a mountain of this height and with its type of terrain. The mountain should not be underestimated under any circumstances.
During this expedition, I was accompanied by my brother and my father – the latter joining the trek until we reached base camp. The trekking part of this expedition is something everyone can join in on if they are fit enough to hike in mountainous terrain for several hours each day.
The best time for an expedition in the Himalayas is either from March to May or September to November; we chose to go in April. After arriving in Kathmandu, a loud, hectic, dusty city, we continued to the airport in Lukla the next morning (known as the most dangerous airport in the world).
I chose to go by helicopter for two reasons: a lot of flights are canceled due to brush fires and poor visibility in the area and I still remembered the images from my last visit – an airplane lying next to the runway where it had crashed several days prior.
At Lukla, we met with our team: Te Kumar Rai (our guide), three supporters who would carry our luggage to base camp, and our cook. We would meet the second guide in the village close to base camp, Chukhung (Elevation: 4,800 meters / 15,750 ft). He had already hiked Everest, Cho Oyu and similar high peaks several times before.
On our first day, we hiked through narrow valleys and crossed bridges above deep drops, passing many villages along the way. The second day was certainly one of the most exhausting since we were not acclimated yet. We climbed 1,200 meters (about 3,900 feet) in elevation towards Namche Bazar, which was at around 3,400 meters (11,150 feet) above sea level. It is hard to imagine how it feels unless you have experienced your legs feeling like lead and hardly lifting from the ground. You are breathing like you're running a marathon, but still barely able to move forward.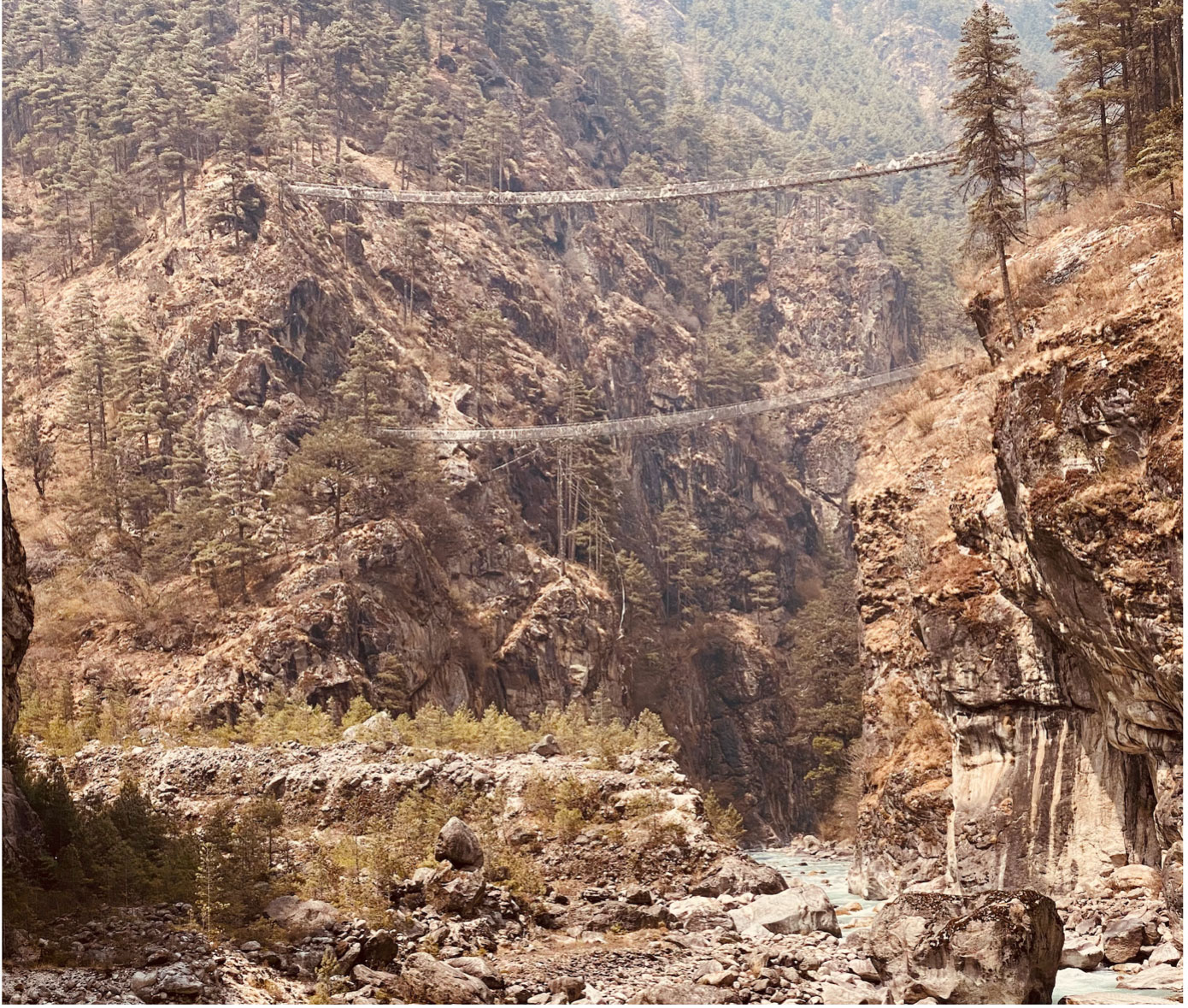 The famous bridges, which have been featured in many films such as "Everest"
Namche Bazar is a striking village nestled into a valley basin, consisting mostly of lodges and small tourist shops. Each Friday, a big market draws people from neighboring villages to Namche Bazar.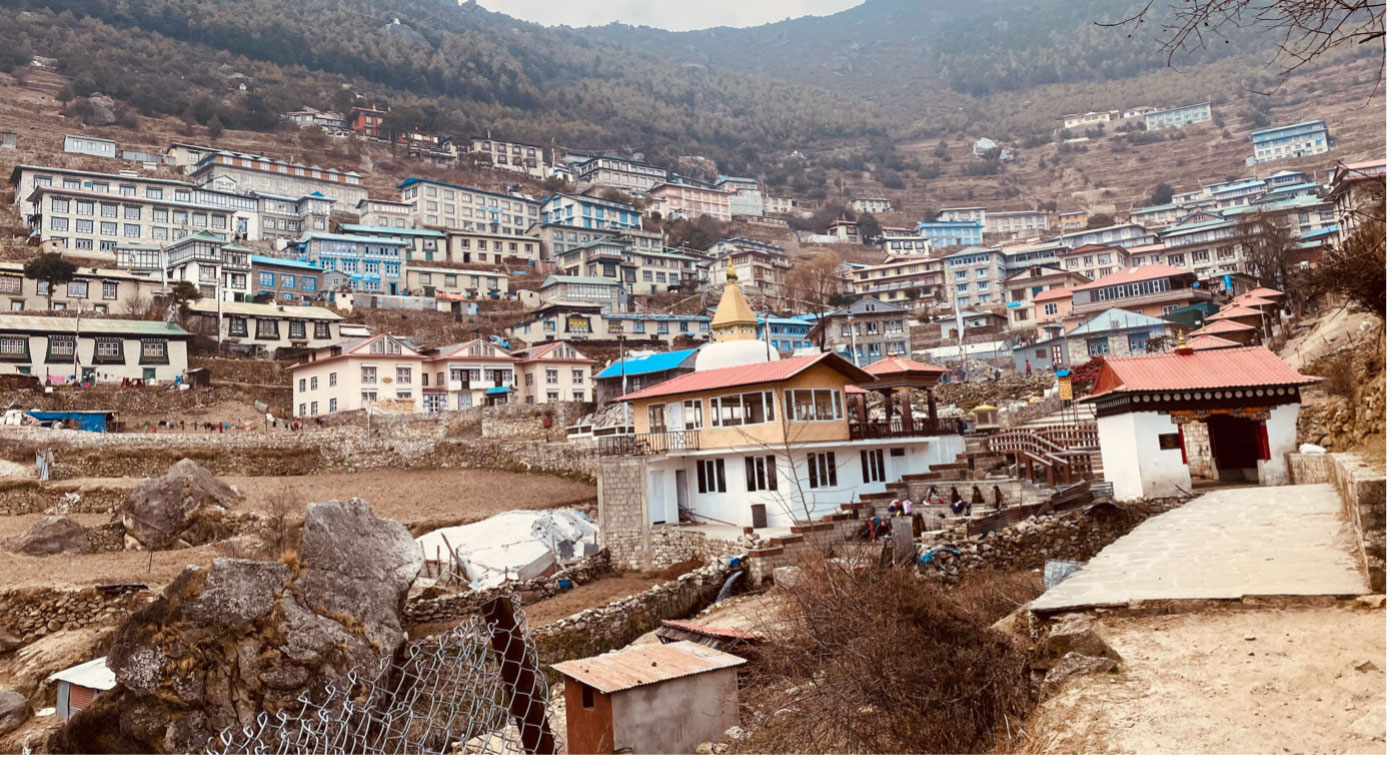 Namche Bazar at 3400 meters elevation (11,150 feet)
We continued to the Everest View Hotel at 3,800 meters elevation (12,500 feet). We were the only guests there and catered to very well. The food was tasty and satisfying. It consisted mainly of rice, noodles, and momo (filled dumplings). At this elevation and in such thin air, it is difficult to eat meat, since it is hard to properly digest it.
If the painstaking gains in elevation made you feel happy one day, it made you feel exhausted the next. One look at the landscape in person shows that only photographs of the Himalayan Mountain ranges show a flat topography. The real thing is anything but flat.
The following days were spent climbing up and down repeatedly. It took a whole week to trek the near-endless Khumbu valley towards Chukhung, a tiny village at 4,800 meters elevation (15,750 feet) that is nestled between the enormous mountain flanks of Lhotse, Nuptse, Ama Dablam and many others. This puts it at about the same height as the peak of the highest mountain in the Alps, Mont Blanc.
A full day of acclimation to elevation and climate followed at Chukhung Ri (5,540 meters or around 18,200 feet). It was challenging and a good indicator of what was to follow. We hiked up the rocky terrain without any ropes to secure us, which would not have been a problem based on the terrain alone. It was the height, however, that repeatedly made every small exertion a noticeable strain on the body. We would often feel dizzy, stop and hold on to something while breathing hard and fast. Since we barely had a chance to look around, it never occurred to us how exposed we were and how far the drop behind and next to us was.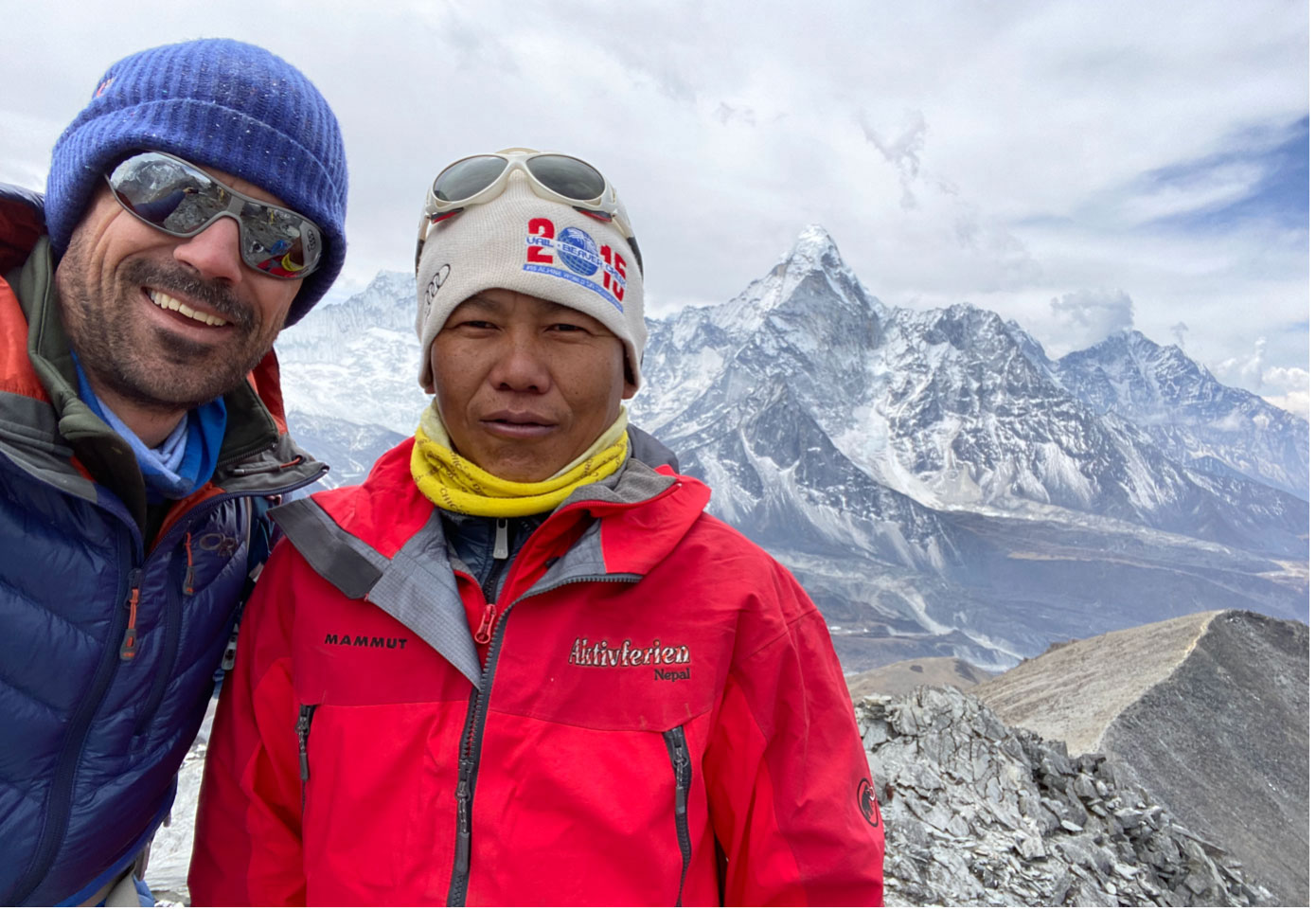 Te Kumar Rai, our guide on Chukhung Ri (5540 meters / 18,200 feet elevation). In the background: Ama Dablam, the Matterhorn of the Himalaya with an elevation of 6812 meters /22,350 feet
High Altitude mountaineering is a unique experience with a level of exertion that can't be imagined and must be experienced. The lack of oxygen is very noticeable and makes every fiber of the body strain to turn back. It is a bit like going for a jog while only being able to breathe through two straws. Every breath makes the lungs burn and it feels like no air at all is coming in. Every bit of exertion is challenging.
Ultimately, we developed altitude sickness. The sensation was similar to waking up early in the morning in a tent at a music festival with a horrible hangover while the sun is scorching the ground below, all while one is unable to find a drop of water to quench thirst. I couldn't eat – every small movement was arduous. I just wanted to lay down and go to sleep forever at that point.
A seemingly simple task, such as putting on heavy boots, was unimaginable. I would have to sit up in the already very small tent and hold my breath while putting on and pulling up my boots. This immediately resulted in a dizzy sensation and breathlessness as though I just did a 500-meter sprint. My head was pounding and I felt nauseous. But with a lot of tea and a bite to eat, as well as resting my body, the challenge became manageable.
The only true cure, however, was to climb down to lower elevations. We would hike back down for two days, descending about 1,000 meters (3,300 feet) lower, to allow our bodies an opportunity to get accustomed to the elevation, before tackling higher levels with a better-acclimated bodies.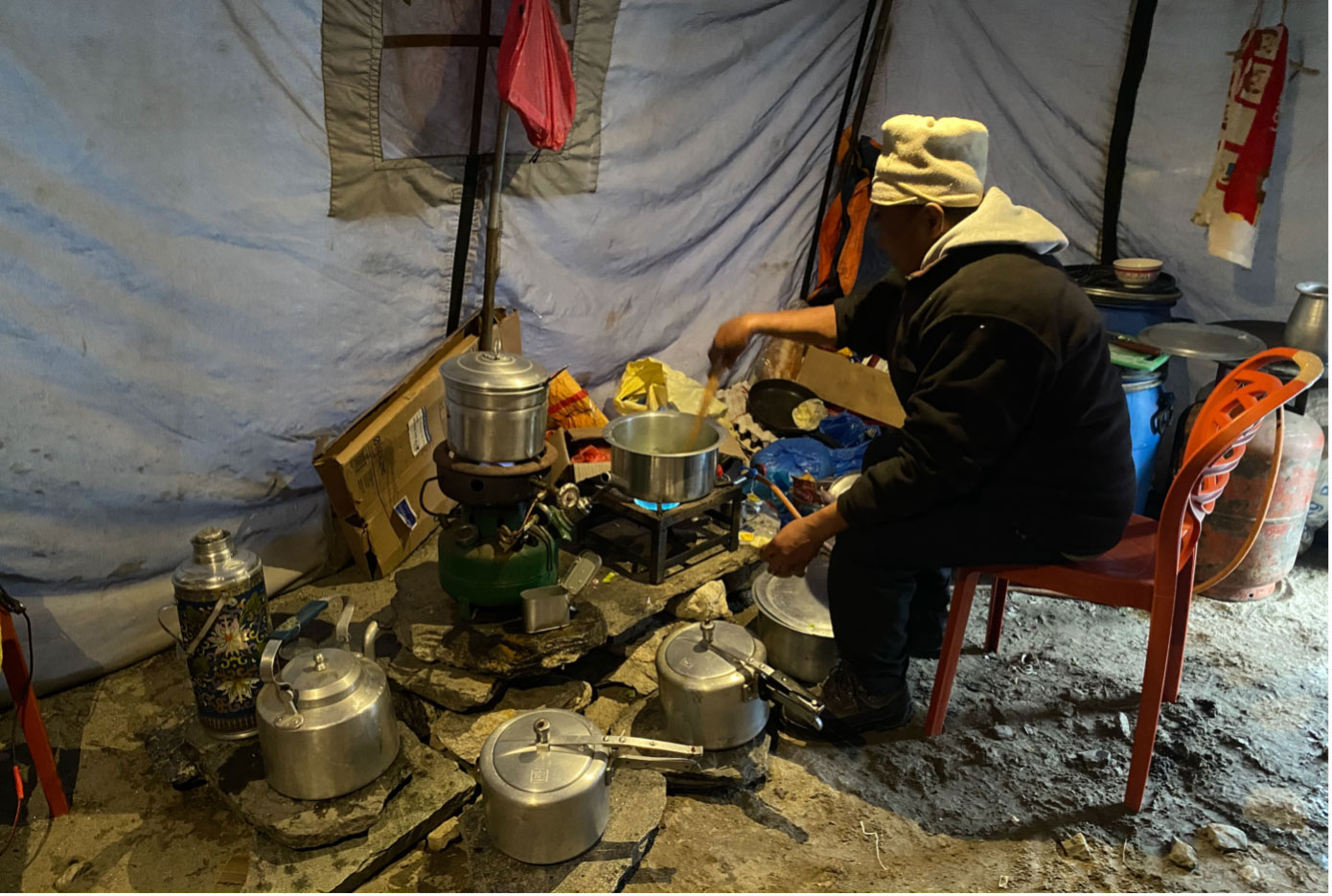 Our cook at work. You wouldn't believe what excellent food you can cook in such a simple kitchen – even cake with chocolate sauce!
Summit day started at midnight. I couldn't really get any sleep beforehand, and if I hadn't traveled half way around the world and fought to get here for the past ten days, I might have turned backed. That night, my brother and I didn't feel well. It was icy cold, and the air was crisp. Despite going from freezing to breaking a sweat in mere minutes, we still had to fight the urge to throw up.
Sitting in the tent, we looked at one another and didn't say anything, but we did shake our heads and probably thought the same thing at that moment, "Why are we voluntarily doing this to ourselves?"
We couldn't eat anything, only drink a bit of coffee and sugary tea. Then, we each took a headache tablet because we couldn't bear it anymore. Taking any medication is not advisable when heading for the summit, but I was extremely hopeful that it would work out somehow.
During the previous days, we were always out during daylight; now we were thrust into a completely different situation. Suddenly, it was the darkest night and iciest cold. We were dressed in bulky boots, a thick jacket and carrying a heavy backpack, while the only thing illuminating our path were the cones of our headlamps.
Before we started, we had a little ceremony with a small fire and a few prayers. At the end, before we headed off, we threw some rice in the air to get the blessing of the spirits.
The first portion of our trek through the valley was short, smooth, and lead past a glacier lake. Soon enough though, the terrain became steeper. During the first three hours, we ascended over a stretch of gravel, which was extremely difficult to climb thanks to a dusting of fresh snow that had fallen in the hours before we began our hike. Every few meters of elevation, the air grew thinner. Then, we entered rocky terrain.
A glimpse at my watch showed it was nearly 4:00am, a stark reminder that this drudgery would go on for several more hours. I wanted to switch on my GoPro for a few more pictures but pulling off my gloves to switch it on and focus enough to snap some pictures simply did not feel possible anymore. It was freezing and I was too focused on being able to breathe and keep my balance.
Hour after hour, we continued our ascent up the mountain until day broke. All of a sudden, we could see where we were going. While climbing, we didn't have time to admire our surroundings, not even during daylight hours. Each step, each handhold was placed with care. But when I saw where we were during a brief pause, the only thought that occurred to me was: "Luckily I had not seen this on the ascent until now. If I had known, I never would have done this without being secured with a rope."
In every direction around me, no matter where I looked, I could have spit and watched it fall for hundreds of meters straight down. Now I understood why the videos on the internet didn't show these parts of the climb. It was impossible to film and climb at the same time.
Even when looking up along the slope, it was impossible to see what was ahead. It was just rock after rock. In the middle of this terrain, the guide stopped and pulled out the rope. I thought, "Is it going to get more challenging before we get to the ice?"
Every step was already so exhausting that I needed to breathe in deeply four or five times before I could think about the next. This, combined with continuous vertigo and intense sensations of nausea, made me wonder if I would even be able to traverse the upcoming terrain.
While we were slowly walking up the incline, it occurred to me for the first time that we would also have to go back down the mountain. Clearly, I was still in for a long day.
The next task was putting on crampons, as well as rope up before crossing the glacier. I will admit that I acted like a complete tourist, which would have made professionals such as Reinhold Messner shake their heads.
I simply could not bend down and hold my breath long enough to put on the crampons without feeling like I was about to pass out or throw up. Our guide had to help me, which made one thing very clear to me: being high up in the mountains is very a serious situation. If you are looking to have fun, go somewhere else.
We moved very slowly from that point forward. Our perception shifted, making it hard to judge distances. We crossed crevasses that seemed bottomless, and we could hear the constant cracking of the glacier beneath us. Here and there we saw permanently affixed ropes left behind by other expeditions. These are often found on Nepalese mountains being climbed regularly.
Suddenly, I was face to face with a cliff-face. My first thought was that this must be Lhotse, an 8,000 meter / 26,250 feet tall mountain, but we soon realized this was impossible. Something wasn't quite right.
It was now 8:00am, and I knew from studying our route and the maps of previous expeditions that we were supposed to come upon an ice wall – one that we would have to scale. But this wall was solid rock. The guides hadn't expected this either, and were obviously uncomfortable about this finding. Just a few short meters before the peak, we were unable to continue. We were prepared for an ice wall, not for a rocky vertical mountain face.
Before the Corona pandemic, up to 60 climbers reached the peak daily. We were the only expedition on the mountain on this day, and the first sent out by this particular organizer in well over a year. Nobody knew that over the past several months, the ice wall had completely melted and that ascending to the peak would require extra equipment and preparations.
I couldn't accept the glaring reality in front of us and naively thought that we had alternatives. Anyone who knows me also knows that giving up was NOT an option.
The guides, who knew this terrain like the back of their hands, gently tried to persuade us to turn back but were too nice to say bluntly that this was as far as we would get. Their polite mannerisms in delivering the news also meant it took me a while to get the message and understand, this was as far as we were going to go.
Finally, my brother said: "We don't have any secure ropes up there, and someone would have to fix our ropes to do this. It would put their life at risk!"
Before this day's reality and all the events that led to it, there would have been a 100 meter high wall of ice, covered in fixed ropes from previous expeditions that would have allowed us to pull ourselves up to the peak. Now, though, there was nothing but an iceless wall of dangerous rock. I finally understood that our peak was going to be further down the mountain.
Before I had this experience, whenever I spoke with other mountaineers that had turned back so close to their goal, I couldn't understand why. How can you travel so far, just to give up? Now I understood that sometimes you achieve your goal, but other times are reserved for learning experiences. This time was a learning experience for me.
I can partially understand why some people, who are only able to go to the mountain of their dreams once in their lifetime, would risk their lives in this moment. With such an expedition, you invest years of training, months at the mountainside, and an enormous sum of money. The opportunity will most likely not be available again. At around the same time we were in Nepal, several other mountaineers chose to press on instead of turning back and lost their lives only a few short kilometers away from us.
As I was taking in everything we were doing at that moment, I had only one thought: "You'll never do this again in your life!" It felt like jumping into the water, belly first, and telling yourself after, "Well, that was a mistake I won't quickly make again!"
I was feeling nauseous and still had to climb down the mountain. Sleep was seven hours, 12 kilometers and 1,300 meters of descent in elevation away. I had pictured the descent being easier. In addition to nausea, there was a general feeling of weakness and the need to still place every step carefully. I started to ponder how long it had been since my cell phone last connected to any towers. Breaking your leg up here would mean waiting a long time for help; a helicopter rescue at that altitude would not be possible.
It was only during the descent that I fully appreciated how far I had ascended, and what distance I still had to cover. Hours of toil were ahead of me, but I felt with every step, cautious as each one had to be, that I could actually breathe again.
After several hours of descending, we suddenly saw our cook running towards us from further down the mountain, going as fast as he could. He was bringing us a fresh can of tea, a gesture which made me indescribably happy at that moment. The cook had hiked towards us for around one and a half hours, just so we could have something warm and tasty to drink.
Back at base camp, I was so tired that I could barely get out of my shoes. Yet, I was grateful that I could lay back in the sun and think about what we just had experienced. Knowing that we were back at base camp, safe and sound, brought a tear of joy to my eyes.
Extreme mountain climbers usually say happiness does not exist when reaching the peak. There's only the comfort of reaching base camp in good health.
I could now understand this sentiment. We might not have been in mortal danger, but it had felt like it.
A few hours further down the mountain in Chukhung, we had a good meal, and, despite the altitude, I slept like a baby in the bed given to me.
On the day of our departure, we were picked up by helicopter in Chukhung. I simply didn't want to walk along the entire Khumbu valley, which would have taken another four days.
About half an hour before our flight, we met a young couple from Brazil. They talked excitedly about their trek and how they had little success at the Mera Peak (6476 meters or 21,250 feet elevation). They told us that the journey was a bit easier since the various legs of the climb to the peak were shorter and better secured. My brother and I exchanged a brief glance, grinned, and asked, "What was the name of the peak again…?"
Mera Peak is being praised as one of the highest treks in the world. The word "trek" though should not beget the impression that it is any less dangerous or difficult than other climbs. Still, my previous thought that I would never do this again was quickly forgotten.
Flying with the helicopter back out along the Khumbu valley, past the paths we had climbed and the cloisters, villages and lodges in which we had stayed overnight, I grew even more convinced that this was not the last time I would come here.
I had one special encounter, a conversation with Mr. Sobit Gauchan, whom we met while in Chukhung. He had set a goal for himself to become the first Nepalese helicopter pilot who would climb Mount Everest. He accomplished this goal only five weeks later, in May 2021. After my very humble experience at Island Peak, this incredible feat was worthy of my highest respects.
There is much to say about Nepal and its people, but I believe the most important thing to say is how friendly, courteous, and nice everyone is. Even in the hectic parts of town, there wasn't any aggression or a mean face anywhere. I was especially impressed by the heavers, who brought everything necessary to the towns up from the valleys.
It didn't matter whether it was food, building material like steel beams or cement, beds, or water pipes for the lodges. While we were struggling with a backpack weighing only 5 kilos, we saw heavers carrying up to 90 kilos on their backs, for up to ten days in a row. They carried not only material for expeditions but also everything needed to supply the villages.
I can wholly recommend this journey to anyone who is fit and wants an incredible experience. It is possible to take the trek even without icy mountains, but you need to have a good foundation of fitness. Those who want to go even higher will need to train harder and prepare even better. Ultimately, though, it is worth the effort.
Our travel agency at www.aktivferien.com created our travel plan. We'd like to thank them for the excellent care they provided from start to finish along our journey!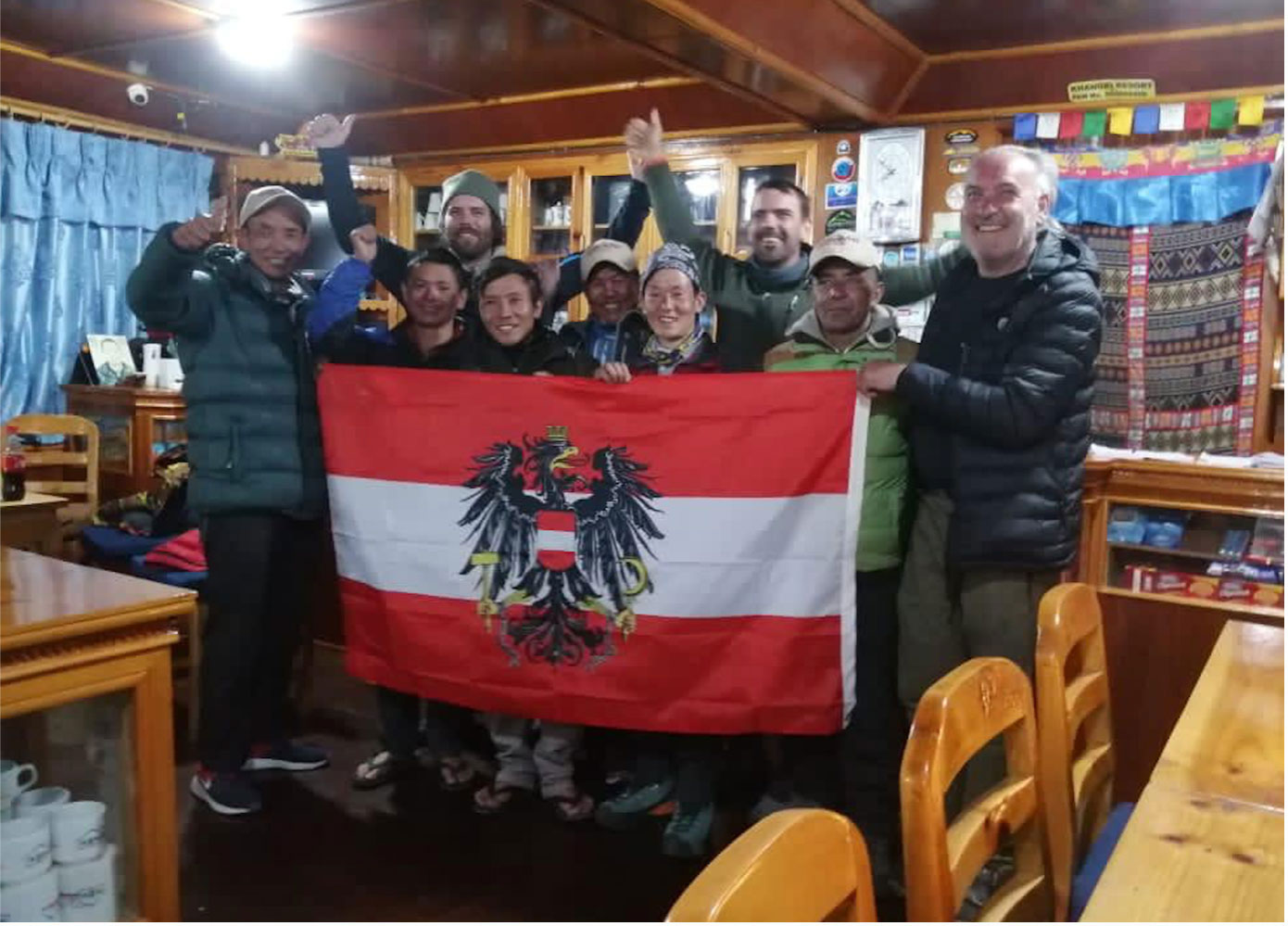 Our team, to whom we would like to say a very warm thank you! We are looking forward to our next adventure!
https://martin-schranz.com/wp-content/uploads/2021/05/Unbenannt.jpg
1008
1390
martinschranz
https://martin-schranz.com/wp-content/uploads/2018/02/martin-schranz-logo-bild.png
martinschranz
2021-08-08 17:35:30
2021-08-10 18:29:11
Island Peak – Expedition in the Himalayas (6,198 meters / 20,340 feet)