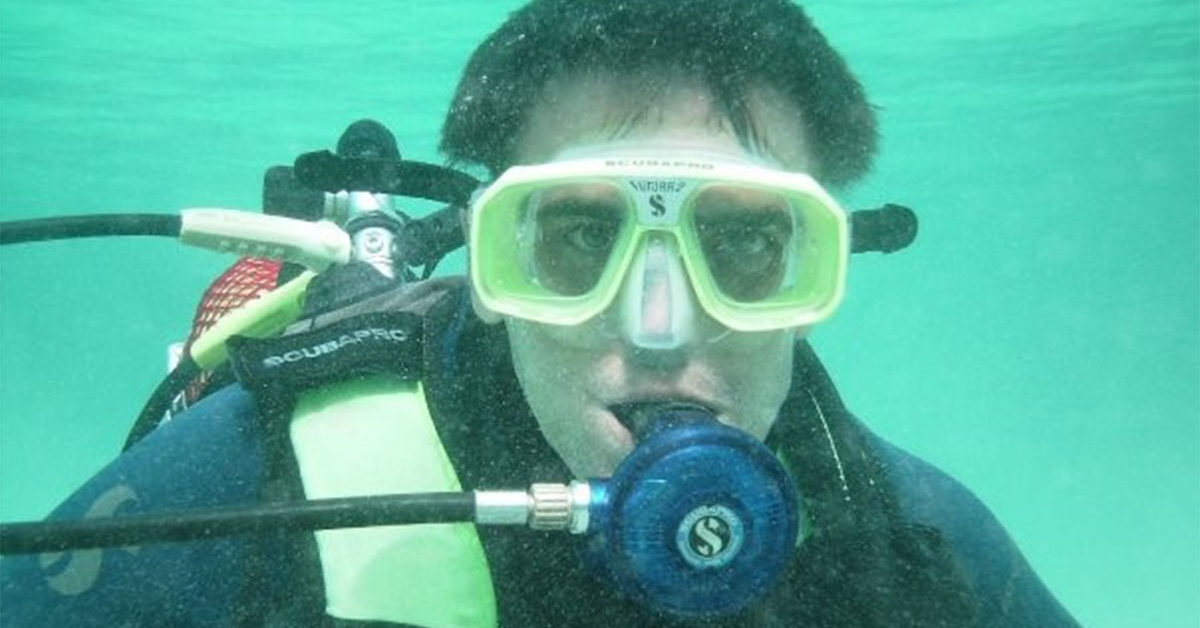 Many people feel overwhelmed with day-to-day life. It is not easy to manage work, family, household chores and everything else that crops up. It often feels like being caught on a treadmill with no escape, playing out a similar scenario every day, attending one appointment after the other, just to be confronted with the same question each night: "What did I do for myself?" If that is what you're going through, I have a very valuable tip for you. Pick any task, hobby, or pursuit that will allow you to fully be in the here and now. It should be something that makes the worries of daily life shrink into insignificance and, just for a while, allows you to focus solely on the present moment.
For my part, I find this in diving. It's my ideal way of giving myself an hour or two of break. This is also why I go on diving vacation several times a year.
What Makes Diving So Special?
I did not take any courses to get my PADI diver certification, but I don't think this is necessary. So far, I have found competent diving instructors during every vacation who show me the most beautiful places along the coast. I have always been fascinated by the depths of the ocean, as it holds something mysterious about it.
I believe the combination of the waves, the wind and its deep blue color create a special ambiance. Even in the most popular tourist destinations in Egypt and with the chaos at those beaches, it's possible to escape, leave the surface behind and dive into a whole new world.
To me, diving is comprised of the following:
Absolute freedom
Calm
Relaxation
Infinity
Weightlessness
Adventure

Underwater, different laws reign. A big part of your senses will not work. You cannot talk, walk or smell, but you can feel around and take everything in that you see.
Diving in a Caribbean Paradise
I have been to the Caribbean several times already since the unique landscape captivates me. Each of the islands is unique and offers different experiences. For example, Curaçao is an excellent place for divers since the island offers not only endless sandy beaches but is also dotted by fascinating diving spots.
Most of the 45 spots can even be reached from the beaches. You can book an appointment with a diving instructor and immediately set off. Due to the fact that there is only a minimal current at the coast, even beginners can dive safely. The reefs close to the island are covered in cabbage corals and sponges.
If you're looking for adventure, I would recommend booking a dive to Oranje Nassau. On Bonaire Island, you will have crystal clear waters and excellent visibility. Additionally, you most likely will not get cold at any of the around 80 diving spots because the water is a pleasant 28 degrees Celsius. The most amazing thing here is the ample biological diversity. With some luck, you will be accompanied by seahorses and turtles.
Diving Holiday in Egypt
If I am in the mood for a dive, I usually like to go to Egypt, since it is a much shorter trip than to the Caribbean. Additionally, Egypt's coast is dotted with an abundance of excellent diving spots. For those craving to go into the depths, I recommend checking out the following spots:
Sharm el Sheik: The best-known feature here is the reef in front of the Ras Mohammed National Park and the Tiran Islands. There are also several shipwrecks for you to explore.
Dahab: This is a quieter place, though the Blue Hole there is considered to be amongst the most dangerous diving spots. Personally, I've never been there.
Nuweiba: Very much recommended if you want to dive away from mass tourism hotspots.
Hurghada: It is recommended that you get a boat here to reach the most beautiful dive spots quickly.

The sheer variety of breath-taking diving spots is what thrills me most about Egypt. Even during the main travel season, you do not notice the mass of tourists during such dives. The
calmness of being underwater and witnessing the bountiful array of different colored fish living in the reef are emotions that are difficult to describe.
My Experiences in Cancun
At the diving schools in Cancun, I experienced excellent service. Everything was perfectly organized: from being picked up at my hotel, to being given equipment and then completing the dive itself. On my first adventure underwater, I encountered shimmering neon tetras and parrotfish. If you want the ultimate thrill, go on a dive with sharks.
The professionals at the diving school know all the spots where you can see large fish, and on a diving cruise, you can have an encounter with the near-mythical Great White, as well as hammerheads. No matter where you dive though, you should be accompanied by a professional; especially when, like me, you only dive occasionally on vacation. When I asked locals for any tips on which diving schools had the best offers and friendliest staff, I usually struck gold at every place they recommended.
https://martin-schranz.com/wp-content/uploads/2018/02/martin-schranz-cancun-tauchen-bild.jpg
630
1200
Martin Schranz
https://martin-schranz.com/wp-content/uploads/2018/02/martin-schranz-logo-bild.png
Martin Schranz
2021-11-01 12:35:59
2021-11-01 12:36:02
Diving